As noted by German sites
Flo's Weblog
[
Google translation
] and
iFun.de
[
Google translation
], a curious new iOS application that seems to be from Apple has appeared in the App Store. The new app, known as
GameStore
[
App Store
], debuted on December 31st and seems to be a test app of some sort, offering several racing-themed in-app purchases but without any actual functionality.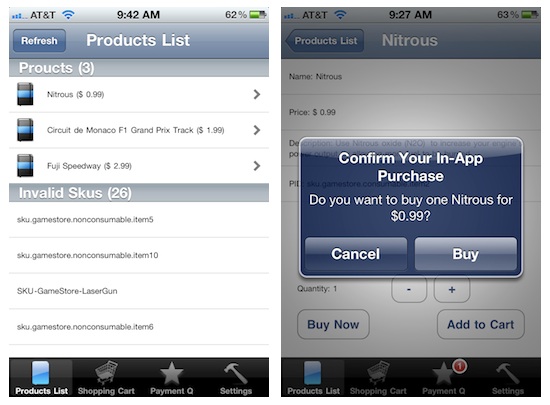 GameStore product listings and in-app purchase confirmation for "Nitrous"
The app is priced at $0.99, with the three in-app purchases currently available through the app priced between $0.99 and $2.99. Additional in-app purchases shown in the single screenshot shown on the App Store page for
GameStore
show items as high as $26.99, but these other items are not currently visible in the app itself.
In-app purchases made through the app do go through and users' accounts are charged for them, but with no actual game supporting the content available, they have no functionality.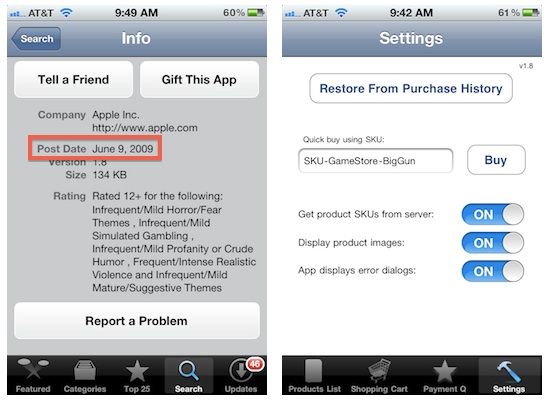 App Store page for GameStore app and Settings pane from within app
When the app's listing is viewed in the App Store from an iOS device, the posting date is listed as June 9, 2009, which was during Apple's annual Worldwide Developers Conference just ahead of the public launch of iPhone OS 3.0 and the debut of in-app purchasing. Consequently,
GameStore
may simply be an internal testing app for the feature that was somehow accidentally published to the public App Store over the weekend.
Update
:
GameStore
has now been removed from the App Store.